page contents
About Us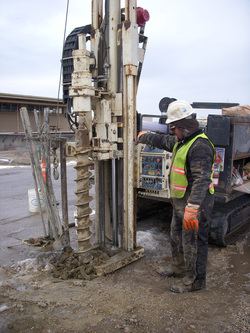 WELCOME TO TEXAS GEOTECHNICAL CONSULTANTS, LLC (TGC) !
A GEOTECHNICAL ENGINEERING AND MATERIALS TESTING FIRM.

Texas Geotechnical Consultants, LLC (TGC)
is a G
eotechnical
Engineering
and Testing,
Environmental Engineering Consulting
and C
onstruction Materials Engineering and Testing
firm based in greater Houston area, Texas. Dedicated to quality, the priority of our company is to provide safe, dependable and economical engineering solutions for your foundation design and construction needs. We have the experience, knowledge and engineering expertise to handle the most demanding jobs with ingenuity, integrity and attention to customer service. With our
Geotechnical Engineers
thorough understanding of the local conditions and ability to see the big picture, we can identify and address potential issues with innovative thinking, best practices and common sense solutions. We offer unsurpassed technical expertise, creative problem solving, innovative product delivery and dedicated customer service to ensure each project is completed on time and within budget. TGC offers prompt mobilization on your projects with a quick turnaround on it's services. We offer unique attention to your projects from our geotechnical
Professional Engineers
. Our ultimate goal is to make the clients successful
.
The services that we provide includes:
GEOTECHNICAL ENGINEERING SERVICES
to include soil borings, field soil testing, laboratory soil testing, geotechnical engineering and testing analysis and developing foundation engineering and pavement design recommendations for various structures including buildings, pavements, retaining walls, communication towers, levees, underground utilities, etc.
ENVIRONMENTAL ENGINEERING SERVICES
to include Phase I and II environmental site assessments (ESA), etc.
CONSTRUCTION MATERIALS ENGINEERING AND TESTING SERVICES
to include field soil testing, laboratory soil testing, proctor tests, soil compaction testing, drilled pier inspections, pile driving observations, concrete slump test, concrete air content and concrete compressive strength, grout testing, post-tensioning observations, etc.
FORENSIC ENGINEERING
to include determining the geotechnical engineering causes of failure of buildings, pavement and slopes failure or distress and determining methods for their safe repair or stabilization.
Texas Geotechnical Consultants, LLC carries professional liability insurance with errors and omissions with a limit of 1 million dollars per claim and 1 million dollars aggregate. TGC also carries commercial general liability insurance with limits of 1 million dollars per occurrance and 2 million dollars in aggregate. TGC also carries automobile and workers compensation insurances with limits of 1 million dollars each.
Texas Geotechnical Consultants, LLC is approved by the City of Houston as Approved Agency/Special Inspection. We are members of American Society of Civil Engineers, Foundation Performance Association, Greater Houston Builders Association, Texas Association of Builders and National Association of Home Builders.
Whether your project is in greater Houston area, Texas City, Galveston, Beaumont, Austin, San Antonio, Dallas or any where else in Texas, we may be able to help you. Please
contact us
at 281-407-6335 or email us at
info@texasgeotechnical.com
or
jay@texasgeotechnical.com
for help with any of your projects or for assistance with our services.
---
---
Texas Geotechnical Consultants, LLC.
4300 South Wayside Drive, Suite 108
Houston, Texas 77087
Phone# 281-407-6335
Fax# 281-407-6350
Email: info@texasgeotechnical.com